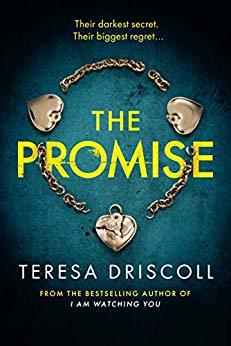 My Rating ⭐️⭐️⭐️⭐️
Content Rating 18+
Teresa Driscoll has written an intriguing novel about three friends and the secret they have kept for three decades…The Promise, the title so fitting to this story, is about three young girls, Beth, Sally, and Carol, who met at a boarding school and became best friends and when the most innocent of events occur, their lives are changed forever and as a result, a promise that was made.  
The Promise is not your typical psychological suspense thriller.  This book takes its time to build each character, slowly developing the good, and the bad.  I liked the way the author gave a voice to each of the characters, and I felt that I was easily able to relate to all three of these women in different ways.  Ms. Driscoll perfectly conveyed the love and the friendship that these women shared,  but at the same time, she also showed us the envy, jealousy, and tension that their secrets caused.
The story is told mostly by Beth, bouncing between the past and present day. And, intermittently, the author has the other characters telling their story too. 
The story is not rushed but slowly entraps the reader into the lives of these three women and how the promise they made to each other has shaped their lives.  There are some dark elements to the book, but I thought the author handled them well.  So many secrets, twists, and turns kept me reading. I will say most of the of the build-up was in the first sixty percent and then in the last forty percent the story came together. I would have liked a little more depth to the ending.
The Promise is the first book that I have read by Teresa Driscoll.  Overall I enjoyed this book and her writing style and would definitely consider reading more of her books. 
***I kindly received this galley by way of NetGalley/publisher/author. I was not contacted, asked or required to leave a review. I received no compensation, financial or otherwise. I have voluntarily read this book, and this review is my honest opinion .***